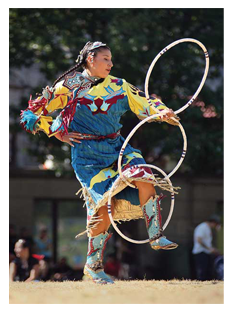 The Social Equity and Diversity Education Office's Indigenous Education Program is pleased to announce the 3rd annual Indigenous Awareness Week, from September 23rd to the 27th 2013. The week offers an opportunity to discover and learn about Indigenous peoples in Canada. This year, we are honoured to have Teresa Edwards, Director of Human Rights and International Affairs for the Native Women's Association of Canada, who will be opening the week with a presentation on contemporary issues and challenges faced by Indigenous women living on and off-reserve.
The issue of Indigenous identity is frequently debated in the courts and in the media. Many points of views exist to define who is Indigenous and who is not. A panel discussion led by Paige Isaac, Coordinator of the First Peoples' House at McGill University will address this controversial and multifaceted subject. Woven into Indigenous identity is the preservation of ancestral language. Akwiratékha Martin from the Kahnawake Cultural Centre will give participants a chance to learn the basics of the Mohawk language and the history behind it.
In collaboration with the McCord Museum and Wapikoni Mobile, we will be highlighting Indigenous filmmakers through a screening of short films. Our partner, Indigenous Access McGill will be hosting a screening of Kanehsatake: 270 Years of Resistance, followed by a discussion with Kanehsatake elder John Onawario Cree. The Indigenous Student Alliance will hold a traditional dancing demonstration on McGill's Lower Campus. We are also grateful for the efforts of the Indigenous Student Alliance, Aboriginal Law Students Association and KANATA, who have helped organize events for the week.
Take time to browse through the week's activities-from the opening and closing ceremony-to an excursion to the Kahnawake Cultural Centre. We invite you to discover and learn about Indigenous peoples of Canada; their histories, cultures and contemporary issues. To kick-start the week, Friday September 20th is the date of the 12th annual Pow-Wow, located on lower campus, hosted by the First Peoples' House.
Lastly, we would like to thank the McGill and Aboriginal communities for their ongoing support and for the crucial roles they play in making Indigenous Awareness Week a reality.
Have a wonderful week!