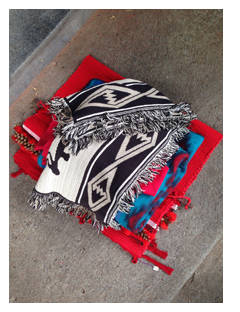 Kairos Blanket Exercise
Room 200, Coach House
3715 Peel Street
10:00AM – 12:00PM
An interactive exercise on the relationships between the Crown and Canada's Indigenous populations, from the settlers' arrival to modern times. Participants are guided through centuries of denial of Indigenous nationhood and the gradual appropriation, relocation, and removal of Indigenous peoples and territories.
The exercise begins with blankets spread across the floor, which represent land occupied by Canada's Indigenous populations. As participants are guided through centuries of negotiations, treaties, decrees, and other interactions with European settlers, the blankets on which they stand are slowly removed, until only a few participants remain on a small area representing what little remains of Indigenous territory today. The exercise will then be followed by a talking circle.
This event is hosted by Allan Vicaire, Indigenous Education Advisor, and Paige Isaac, Coordinator of the First Peoples' House.
Spaces are limited. Click here to reserve your spot!